February 28, 2017
Comments Off

on Premieres and pieces this March and April

Thought I'd write something here about the music on the programs I'm performing soon.
On March 7 at Miller Theatre, I'm happy to share two pieces that were written very recently for me by Steve Lehman and Michael Hersch. Steve, who is an acclaimed jazz composer, bandleader and saxophonist, did his doctorate in composition at Columbia University, working with the great French spectral composer Tristan Murail. Steve and I were working a lot in the same circles of musicians and became aware of each other's playing and work. Some years have flown by since then and now I have a nifty new violin piece by him.
The piece, titled "En Soi"  (or "En Soie" maybe?), involves a microtonally detuned violin and intricate, groovy pizzicato in both hands. The plucking evokes the sounds and playing technique of the African ngoni. There also are a lot of harmonics toward the end. 
Michael Hersch has been one of my more frequent composer-collaborators in the last decade. I've been involved in his music from many perspectives, playing solo, in duo, trio and quartet formations and in his chamber opera. Though I've already performed most of his music for violin, and recorded some of it, he actually had not composed a piece for me until this past year. It has been gratifying to collaborate on this together. The piece is called "the weather and landscape are on our side" and based on text fragments from letters by Bruno Schultz. Along with his distinctive gestural and harmonic language, he here introduces a few elements relatively new to his music: quarter-tones, breathy sounds produced by bowing the wood of the violin, and even some gentle singing.
Aaron Jay Kernis has been acclaimed for his compositions since he was quite young and he was a figure on the musical landscape for me well before I was playing much contemporary music. So I was very happy recently to meet him personally and to get to know his violin works. While I love to explore unfamiliar sounds and ways of playing, and to expand the violin's palette to include surprising colors one might not expect, I also love to return to the violin's roots and I'm glad there are composers who, like Aaron, continue to utilize stringed instruments that way. I especially appreciate Aaron's deep musicality, pitch sense, and way of pacing a piece as a whole. At Miller, I am playing two pieces which were written quite far apart (in 1992 and 2010) but complement each other well. "Aria-Lament" builds from an opening of stillness and quietude to a frenzied torrent. "A Dance of Life" was inspired by Edvard Munch's painting "The Dance of Life". Aaron says he was looking to evoke the circular motions suggested in the painting.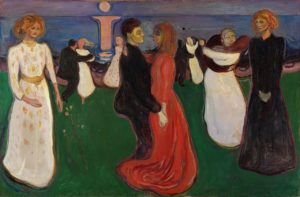 Huang Ruo and I were doctoral students at the Juilliard School concurrently (though not in the same class). We now both teach at Mannes School of Music. I think I first met Huang Ruo in Juilliard's research library – in any case I definitely remember talking with him there. He was very chatty and animated (never mind that we were in the library!) A few years ago, I ran into him on the subway in NYC and as we parted, he said "I must send you my violin piece!" I'm very happy to play it now. It is singing and brilliant and idiomatic to the instrument. Incidentally, he recently told me that he was, like Aaron Jay Kernis, inspired by Munch in writing this piece. He had just seen a show of Munch's paintings, where he'd seen a statement by Munch posted on a wall: "I paint not what I see, but what I saw".
Being half Taiwanese (ethnically half Chinese), it has been satisfying to me to work more with Chinese composers who are writing in the context of Western classical music. On my concert at National Sawdust on April 5, I'm delighted to premiere a work by another friend of mine from China, Wang Lu. 
Lu and I met when she'd just arrived in NYC to study at Columbia University. We had lunch at the now non-existent Cafe Mozart.  Lately we'd talked about working together on a solo piece and I asked her if she'd write something for this concert. The concert marks the release of my album of violin music by Ferneyhough, Carter and Wolpe. Rather than perform all the pieces from the album, I wanted to mix up the program with something new. So, along with the two Ferneyhough pieces, the shorter Wolpe piece and a movement from the Carter "Four Lauds", I'm going to play Lu's new work and a piece by Richard Barrett.
My album is titled "Invisible Colors" after Ferneyhough's piece "Unsichtbare Farben". In the context of this work and album, Wang Lu decided to write a piece called "Unbreathable Colors" to be performed with a video dealing with the issue of smog pollution, which has become dire in some cities of the world. Breathing is necessary for life – we all need oxygen in order to survive. The sense of breathing is also vital in a lot of music – the intake and release, the feeling of flow, the shape of a phrase, each arc of breath.  These days, the word "unbreathable" likely recalls, for many people, Eric Garner's final, repeated words "I can't breathe" as he died in 2014 from a police chokehold. In tandem with Wang Lu's piece, I decided to play English composer Richard Barrett's "Air", which also evokes the primal "process of respiration". Richard, whom I was delighted to meet and work with in NYC in 2015, worked with Ferneyhough at Darmstadt and has written about his music.
I also just want to mention another new work I'm anticipating: a piece for violin and piano from Cuban-American composer Ileana Perez-Velasquez, which I'll premiere with pianist Jacob Greenberg at Williams College on April 7. Last year, Ileana wrote a beautiful piece for me for violin+ensemble, called "Lightning Whelks" after a type of a spiral-shaped sea shell. She said that an archeologist friend of hers "ties the shell's clockwise 'movement' winding up in the interior of the shell to the movement of the sun, which has long signified light to darkness, and birth to death, in native beliefs."